One reason we chose this property, as opposed to some alternatives (like buying bare land or purchasing a yurt from Shelter Designs in Missoula), was due to something Bob Theis (legendary green architect who trained with Bill Mollison) said in Episode 1333 and Episode 1352 of the Permaculture Podcast. He said something like this:
"The best thing young people can do is to buy one of these old stick-built homes from the mid 1900's and renovate it using green methods."
So we did. In fact, I called Bob Theis personally to ask him about this decision. He approved and encouraged me, despite lacking construction skills. He offered to be consulted later for his hourly rate, which we believe will be a good investment in time.
Our house is 1600 sq. ft.; a three bedroom stick-built home in need of some love. Half of it had been recently remodeled and the other half was in good working order with a good layout, except for one major issue: the crawlspace was soaking wet. We knew this upon the inspection and took it as something we needed to fix right away upon moving in. We didn't need to consult Bob for this.
Enter the crawlspace: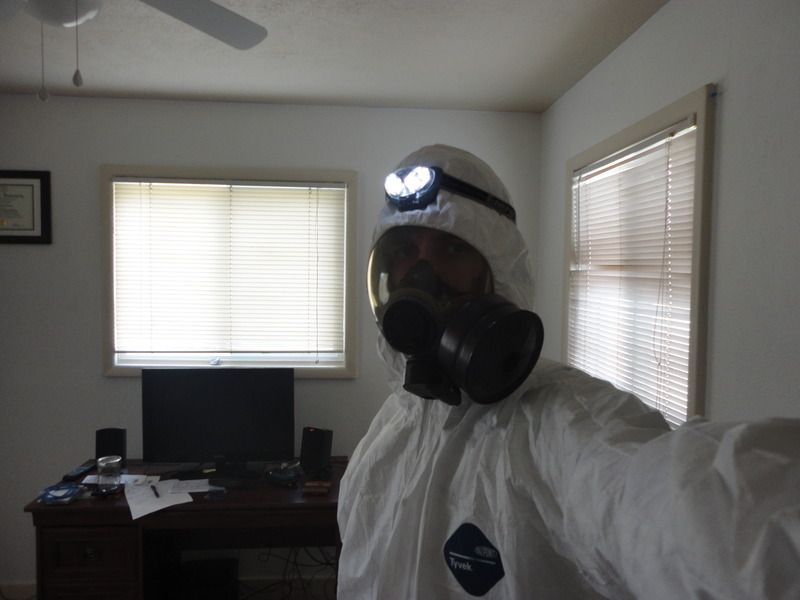 What a mess. There were decades of discarded pipe, projects, an entire discarded septic line, ripped vapor barrier plastic and rotting insulation over clay almost as wet as mud in some places. I descended three times, for a total of five or six hours cleaning it out. It reminded me of the hidden spaces in some people's lives—neglected, overlooked, and a potential disaster to the entire house, hauling out decades of garbage. Looking at all the pipework down there got me thinking about simpler ways to do plumbing, like going grey-water style!
Next comes stapling new vapor-barrier to the ground and fixing a few areas of insulation. Part two of this project involves the French Drain Project outside, a mighty task for a humble gardener wannabe.