Vigorous sourdough on the counter. "My cup runneth over…" (Psalm 23:5)
This was a fun weekend, with plenty to do.  We relaxed a lot too.
First it was a lazy night at home.  Then Saturday, in lieu of the Rebecca Farms Horse Show, we stayed home to pound fence and rebuild the chicken coop door.  I was surprised that I was able to piece-meal it together with wood scraps lying around the property. Good 'nough!
My new commercial crayfish trap caught four nice sized water-dwellers, which we cooked up for Sunday night finger snacks (I'll try fish offal next time as bait for a better catch).  That was after harvesting a couple gallons of huckleberries.  Those will be in our Sunday pancakes every week this year.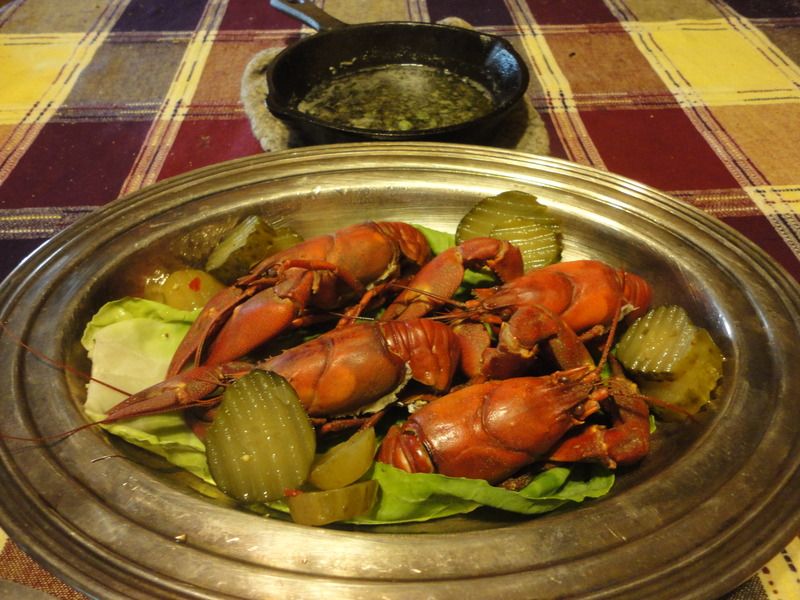 Crawfish on a silver platter.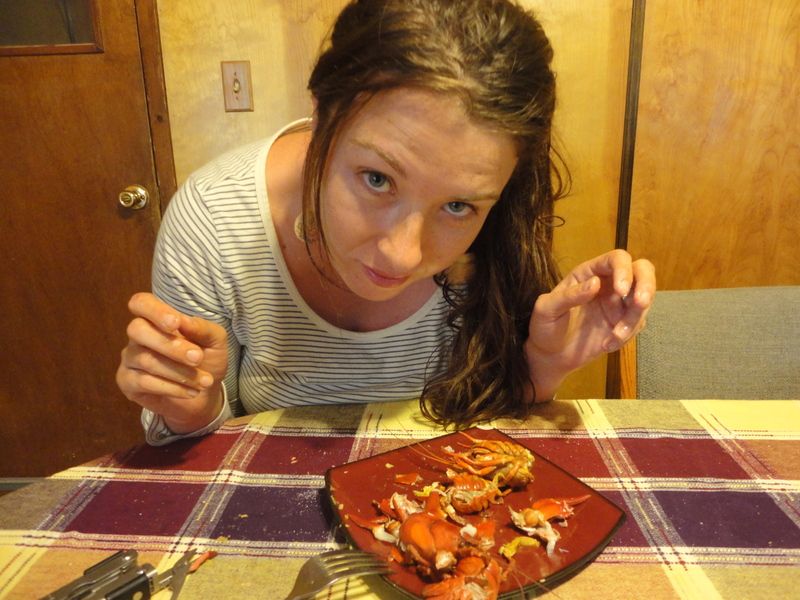 Yum.  With garlic olive oil.
My Icelandic chicken eggs are in the incubator, but my failures are pretty high.  Of 16 eggs, only 6 look promising now.  It's my first time, and the seller told me 50% loss with shipped eggs is common. If we lose a few closer to hatching, I may be lucky to get five chickens. That might give me a sound chance at a breeding pair, but…
As we picked huckleberries yesterday, we talked about ways to make money with the property.  First and foremost, we discussed ways to reduce costs with our investments.
One of the areas in our budget most amenable is our food budget, most especially our egg costs.  We buy local eggs from a farmer and currently pay $3.50 per carton.  That seems reasonable to us for quality eggs.
But we eat a lot of eggs.  Two a day, each, plus some in our salads comes out to three dozen a week, or fifteen dozen a month = $52.50!
Now, shipped eggs cost me $60 for 16, plus $20 to rent the incubator. Shipped chicks would have cost: ~$250.  So let's say I didn't mess it all up with the incubator and went straight for the chicks.  Buying the chicks would cost the same as paying for five month's worth of eggs.
So let's say we take $250 from our savings, and invest it into the egg project on our own property and ask ourselves for a 20% return on our own investment. Order the chicks and begin producing eggs within about four months.
Over the following six months (ten months total now), we begin to repay our savings with the money we would have spent on eggs.  That builds our savings another $50 in the end and cuts our egg cost permanently, all in less than a year!
Plus, what else are we going to do with all those kitchen scraps, fish parts from our ocean salmon trip this fall, and that 30 lbs. of sausage that turned out poorly last year?  I also received 5 lbs of winter cereal rye seed to cover crop over our french drain project when we finish, which I hope will provide winter forage for the chickens.  I want to minimize or eliminate chicken feed costs by recycling our wastes to the chickens.
The problem is the solution!
Another few weeks until hatch.  We may buy the chicks to come in at the same time.  We can't wait for chickens!